How easily can you be fooled? Our brains are pretty amazing and they've developed really incredible methods and coping mechanisms to help us make sense of our world. Parts of our brain simply aren't perfect though, which result in optical illusions. Not technically a bad thing!
1. The images below actually aren't animated, but our brain tells us that they are.

ritsumei
2. This image uses a similar technique.

flickr
3. Same goes for this one!

moillusions
4. Do these cars look like they're different sizes to you?

neatorama
The truth is that they're all the same!
This illusion works because our brain determines an object's size based on perceived distance. The third car seems like it should be further away, so in return appears larger.


distractify
5. It looks like these dots are changing colors and rotating, but if you focus on a single dot you'll see that simply isn't true.

reddit
6. This illusion is similar. Stare at the cross in the center and watch what happens to the blank spot.

distractify
7. This giant globe appears 3D…

distractify
…but the truth is that it is actually flat!

Credit
8. Which orange circle looks larger to you?

distractify
They're actually the same size!
This is because when you surround an object with larger objects, it can make it appear smaller.


distractify
9. If you stare at the yellow dot and move closer to the screen, the rings will rotate.
This happens because of flaws we have in our peripheral vision.


distractify
10. Can you believe the A and B squares below are actually the same color?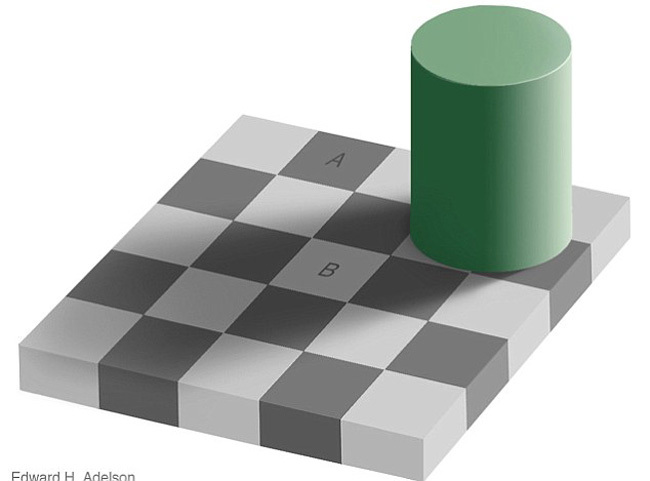 dailymail
…here is proof!
Our brains magically adjust color based on shadows that surround an object.


wikimedia
11. Stare at this photo for 30 seconds, then look at the following image.

distractify
When you stare at a moving image for too long, your eyes can become fatigued. That can affect how you perceive the next image you look at as they try to regain composure.


distractify
12. In this image, the back wall of the room is slanted towards the camera, and the ceiling is slanted downwards. This distorts our depth perception.

distractify
13. The yellow and blue bars appear to nudge forward at different times, right?
When the black bars are removed, you'll see that actually isn't true.


michaelbach
14. Looking closely at this image will make it appear lighter, but when you move away it appears darker.
This is a result of the dynamic luminance-gradient effect by Alan Stubbs.


distractify
15. Stare at the center of this image while it is showing the colored version, and then wait for it to turn to black and white.
Your brain will magically fill in what it thinks you should be seeing. Blink and it will turn black and white. Isn't that amazing?


imgur
16. All of the dots in this image are actually white.

distractify
17. This amazing illusion by Brusspup shows how the human brain and eyes can be manipulated by using a black lined card.

youtube
18. Their eyes will follow you no matter your direction!
This is because our brains perceive faces differently than they do other objects.


youtube
Be sure to check out our horoscopes. You can never be too prepared for the future! You can also check out our Quizzes, or stretch your imagination with with a few stories that are Beyond Belief.
If you'd like to learn more about Astrology in general, then check out our Astrological Articles, watch these Zodiac Videos, or head on over to Zodiac 101 to learn more about each individual sign, and the meaning of it all.
If Readings are more your thing, then we also offer Instant Answer Tarot, the Magic 8-Ball and you can always Ask the Oracle to find out the answers to any questions that may be lingering in your mind.
Did you know that we "see" with our brain? This is because the brain is what processes data that the eyes send to it. What we believe can affect what we actually see.
If you think a friend might enjoy our site too, please share this page with them by using the buttons below.